EPHEMARE partner institutions and research teams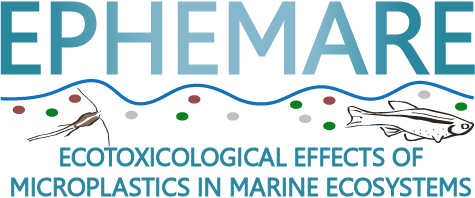 The EPHEMARE consortium incorporates complementary expertise from 14 partner institutes located in Belgium, France, Germany, Ireland, Italy, Norway, Portugal, Spain and Sweden as well as two microplastic experts from the UK.

Lead Partner: Universidade de Vigo – Estación de Ciencias Mariñas de Toralla University of Vigo – Marine Science Station of Toralla (Spain): The Marine Science Station of Toralla (ECIMAT) is the University of Vigo´s marine research station, which provides state of the art marine research facilities to more than 150 researchers both from the University of Vigo and from other public and private institutions. Since 2014 ECIMAT is one of the two facilities that comprise the Spanish national node of the European Infrastructure (ESFRI) EMBRC (European Marine Biological Resource Centre). ECIMAT serves as an integrating element for the Sea Research cluster Océano-ECIMAT. The cluster, funded by the Galician government, includes 18 research teams and the main research priorities relate to ocean observation and global change, marine environmental quality and marine pollution, sustainable use of marine resources, integral management of the coastal zone, modelling of complex systems and omic technologies applied to the marine environment. Contact: Prof. Ricardo Beiras and Virginia Vidal
 
Instituto Español de Oceanografía - Spanish Institute of Oceanography - IEO (Spain): The IEO-Marine Pollution Group (CONT) at the two Oceanographic Centers of Murcia and Vigo, works on marine environmental quality monitoring and assessment by integrating chemical and biological variables, on the determination of pollution effects on fish and shellfish resources, and on the application of this information for the proper management of the coast. IEO represents Spain in international working groups for the monitoring and surveillance of marine pollution. The IEO is in charge of the Marine Pollution Monitoring national program in both the Atlantic and Mediterranean coasts of Spain. The IEO is also responsible of the implementation of the MSFD in Spain, including descriptors 8 (pollutants and their effects) and 10 (marine litter). Contact: Dr. Marina Albentosa ( ) 
 
Universidad de Murcia - University of Murcia (Spain): The research team at the University of Murcia has a great experience in immune system of teleosts of commercial interest and pioneered the use of dietary supplement as immunostimulants in fish. This team has developed a number of techniques to determine the main fish immune system parameters, and the team has extensive experience in cell biology and immunology techniques. Recently the team has studied different molecules involved in the fish immune system, by means of molecular biology techniques as well as focused on the study of probiotics (bacteria and yeast cells) with the aim of knowing their effects on the systemic and local (skin and gut) fish immune system. Concomitantly, the team works on the study of some fish pathologies caused by stressors (such as heavy metals and pollutants) or aetiological agents (such as bacteria, mainly vibriosis or virus, mainly nodavirus). Contact: Dr. María Ángeles Esteban
 
Université de Bordeaux - University of Bordeaux (France): The EPOC for "Envrionnements et Paléoenvironnements Océaniques et continentaux" of University of Bordeaux has three main research topics: (1) Ecotoxicology and environmental chemistry, (2) Coastal oceanography, and (3) marine geosciences. The research group in Environmental Toxicology is dealing with effects of organic and metallic micro‐pollutants on aquatic vertebrates (fish) and invertebrates (crustacean and molluscs) in combination with other stress factors (temperature, hypoxia, salinity, etc.). The group has extensive experience in measuring biochemical markers of defence such as pollutant‐metabolisation and anti‐oxidative enzymes in various aquatic species. Most recent work involved developmental effects of pollutants on early life stages of fish and molluscs as well as genotoxic and carcinogenic effects at various life stages and species. The research also includes the use of fish cell lines to investigate the mechanisms of action of environmental contaminants. Contact: Prof. Jérôme Cachot
 
Universität Heidelberg - University of Heidelberg (Germany): The Centre for Organismal Studies (COS) Heidelberg aims to study organismic biology beyond the borders of organisational level. Research and teaching at COS is dedicated to study organismic biology from the basic molecular principles to cell biology, developmental biology and physiology both in plants and in animals and to further extend into evolution, biodiversity, systems biology and biotechnology. Contact: Prof. Thomas Braunbeck
 
Universiteit Antwerpen - University of Antwerp (Belgium): The Systemic Physiological and Ecotoxicological Research (SPHERE) group performs fundamental and applied research concerning key issues in environmental and adaptational biology. SPHERE focuses on how organisms respond to environmental changes, and does so at multiple levels of organization: from the molecular level (including genomics, proteomics and metabolomics), over the organismal level to responses of populations in real field situations. Contact: Prof. Ronny Blust
 
Università Politecnica delle Marche - Marche Polytechnic University (Italy): The Department of Life and Environmental Sciences (DISVA) of the Polytechnic University of Marche includes research into analytical and organic chemistry to the biophysics, cellular to the molecular biology, biochemistry and genetics, microbiology and biotechnology to algal, plant and animal taxonomy, physiology and reproduction, marine biology and ecotoxicology, oceanography and paleo-ecology, geology and risk prevention to civil protection. Researchers of DISVA publish approximately 200 papers per year in International Journals and are directly involved and/or coordinate several international research projects and networks of excellence as well as several national strategic research projects, also contributing to Large Scale European Facilities. The team at DISVA also organized and coordinated several scientific expeditions in the world's oceans, including Antarctic and Arctic. Contact: Prof. Francesco Regoli
 
Consiglio Nazionale delle Ricerche - National Research Council (Italy): The Institute of Marine Sciences (ISMAR) is one of the 107 institutes of CNR. ISMAR carries out multidisciplinary research in the fields of: physical oceanography, chemistry, biology and biogeochemistry, marine geology, coastal and lagoon geology, marine biology and fisheries technology, marine technologies and marine ecotoxicology. The biological research team focuses on the ecology of plankton and benthos (from micro to macro-organisms), ecotoxicology, genetics and biotechnologies of reproduction of marine species as well as sea farming and fish stock assessment. The research program of the ISMAR unit in Genoa (ISMAR GE) is organised into the following sections; materials corrosion and protections in marine environment, biofouling and antifouling, technologies for the environmental/human impact analysis and research products transfer. Contact Dr. Marco Faimali
 
Centro Interdisciplinar de Investigação Marinha e Ambiental - Interdisciplinary Centre of Marine and Environmental Research (Portugal): The CIIMAR – Interdisciplinary Centre of Marine and Environmental Research - is a multidisciplinary research institute whose mission is to develop high-quality research, promote technological development and innovation and to support marine and environmental policies. CIIMAR aggregates researchers from the University of Porto, the University of Madeira, the University of Azores, and the Portuguese Sea and Atmosphere Institute (IPMA). The scientific programme of the centre embraces three research domains; Global Changes and Ecosystems Services, Aquaculture and Seafood Quality, and Marine Biotechnology, which address the main economic and societal challenges in the area. Contact: Prof. Lúcia Guilhermino
 
Universidade do Algarve - University of Algarve (Portugal): The Marine Sciences Centre and Environment (UALG) of the University of Algarve has been responsible for several research projects funded at national and European levels with special emphasis on inorganic (metals and metal nanoparticles and rare earths) and organic (PAHs, nonylphenol and pharmaceuticals) pollutants, bioindicators, biological effects of environmental contamination and the application of proteomics to the effect of environmental contaminants in biological systems. Contact: Prof. Maria Joao Bebianno
 
Örebro Universitet - University of Örebro (Sweden): Within Örebro University the research centre MTM (Man-Technology-Environment) plays an important part in monitoring levels and effects of environmental pollutants. The researchers study both individual substances and chemical mixtures that could create risks for humans and other living organisms. In the advanced laboratories, samples of soil, air and water, biological material from animals and humans, as well as food are analysed for their content of persistent organic pollutants as well as all new and emerging chemicals of concern for human and environmental health. MTM is an internationally well recognised reference laboratory for the UNEP and is one of the best equipped centres in this research area in the Nordic countries. Research is performed in three work groups; analytical and environmental chemistry, ecotoxicology, occupational and environmental medicine. Contact: Prof. Magnus Engwall
 
Universitetet i Oslo - University of Oslo (Norway): The toxicology group of Olso University is part of the aquatic biology and toxicology section within the Department of biosciences. The group has extensive experience with experimental studies at different levels (cell to mesocosm), how to measure effects of external stressors on aquatic organisms/processes and environmental modelling. The group has a strong outreach profile and members led and have been involved in both national (chair/president NSFT, NOU on hazardous substances) and international working groups (ICES, EU/JRC, OECD, OSPAR, SETAC). Contact: Prof. Ketil Hylland
 
University College Cork  (UCC) ‐ National University of Ireland, Cork (Ireland): The Marine and Renewable Energy (MaREI) centre of University College Cork combines the expertise of a wide range of research groups and industry partners, with the shared mission of solving the main scientific, technical and socio-economic challenges across the marine and energy spaces. The coastal and marine governance group within MaREI has over 20 years of experience in conducting fundamental and applied coastal and marine research supported by competitively won national and international funding and commercial contracts with government agencies and industry. The group specialises in communication of science and integrating research findings into policy and practice as well as having extensive experience in stakeholder engagement, group facilitation, outreach and dissemination work. Contact: Kathrin Kopke ( )
 
French Institute of Research for the Exploitation of the Sea - Institut Français de Recherche pour l'exploitation de la Mer, IFREMER (France): The IFREMER Fish Ecophysiology Platform (Plateforme Ecophysiologie des Poissons; PEP) is a multi-site and multi-species structure which objective is to provide space and skills dedicated to fish experiments in controlled environment. PEP is located within two Ifremer stations La Rochelle (L'Houmeau) and Palavas. Depending on sites, PEP hosts fish model species in fresh water (zebrafish) and salt water (marine medaka) and can host experiments performed on younger marine fish, in L'Houmeau or large size marine fish in Palavas. Contact: Dr. Marie-Laure Bégout)
 
UK experts on marine litter and microplastics: Prof. Richard Thompson of Plymouth University and Prof. Tamara Galloway of University of Exeter are acting in an advisory role to the project team.